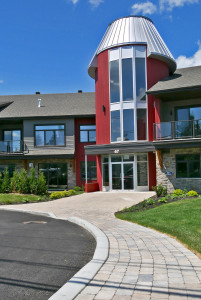 Le Clos du Faucon Condominiums are ideally located in the heart of St-Sauveur yet surrounded by nature's beauty. The condominiums are directly across from Saint Sauveur's medical clinic, and just a short walk from the IGA and the town centre.
One two storey building 32 condominiums unit with elevator as follows :
• 3 one bedroom units (3 ½)
• 26 two bedroom units (4 ½)
• 3 three bedroom units (5 ½)
The History and Charm of Saint Sauveur
Le Clos du Faucon Condominiums in Saint Sauveur are located on the site of the original Molson dairy farm, a historic landmark. Even if the Molson farm buildings are no longer standing, Interra Development and its architects are keeping the farm's memory alive by creating a condominium style that recalls the agrarian history of the region.